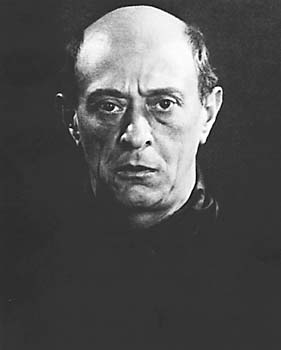 Dreimal sieben Gedichte aus Albert Girauds 'Pierrot lunaire', ("three times seven poems from Albert Giraud's 'Pierrot lunaire'"), commonly known as Pierrot Lunaire ("Moonstruck Pierrot" or "Pierrot in the moonlight"), Op. 21, is a melodrama by Arnold Schoenberg. It is a setting of twenty-one selected poems from Otto Erich Hartleben's German translation of Albert Giraud's cycle of French poems of the same name. The première of the work, which is between 35 and 40 minutes in length, was at the Berlin Choralion-saal on October 16, 1912, with Albertine Zehme as the vocalist.
The narrator (voice-type unspecified in the score, but traditionally performed by a soprano) delivers the poems in the Sprechstimme style, which complements the mood of the poems aurally. Schoenberg had previously used this combination of spoken text with instrumental accompaniment, called "melodrama", in the summer-wind narrative of the Gurre-Lieder, and it was a genre much in vogue at the end of the nineteenth century. The work is atonal, but does not use the twelve-tone technique that Schoenberg would devise eight years later.
There was some criticism of blasphemy in the texts, to which Schoenberg responded, "If they were musical, not a single one would give a damn about the words. Instead, they would go away whistling the tunes".